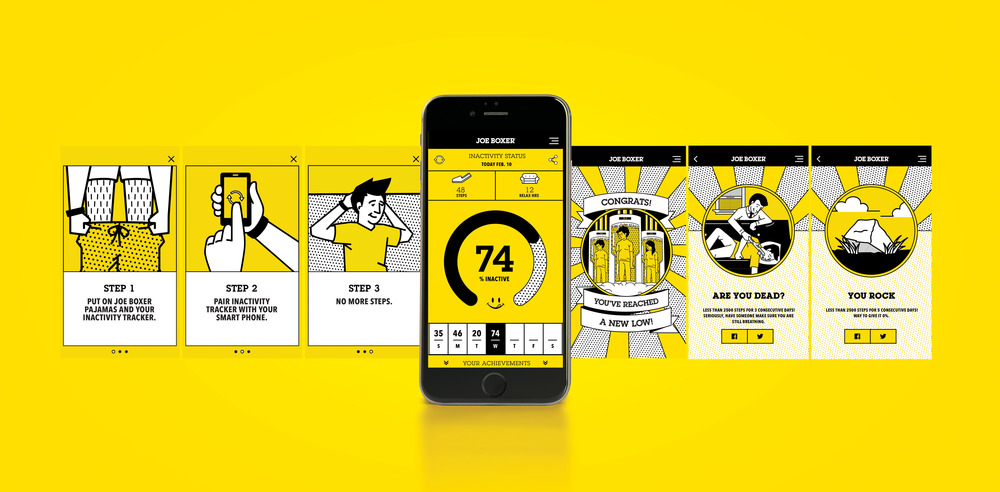 Client – Joe Boxer, Kmart
Markets – US
Timing – 2015 – Present
Agencies/Vendors – FCB
Tech Word Cloud – wearable, inactivity tracking, app, e-commerce, activation
Kmart and Joe Boxer leveraged wearable technology to engage with customers through the development of the world's first "Inactivity" Tracker.
Joe Boxer, a manufacturer of men's, women's, and children's pajamas and underwear, is well-known for its tongue-in-cheek personality. Their past holiday season campaigns drove top-of-mind brand awareness and increased sales for their retail partner, Kmart. However, in the "off season," both engagement and sales are comparatively low. Joe Boxer and Kmart wanted to create a campaign to drive sales momentum for men's pajamas among millennials during this low season.
True to the brand, Joe Boxer decided to play off the popularity of activity trackers combined with the laid-back attitude of Joe Boxer pajamas to create the first "Inactivity" Tracer wristband and accompanying app. The wristband Inactivity Tracker tracks the wearers' lack of movement and actually encourages less activity. The less activity the wearer does, the more rewards they can earn in the app. The product was sold alongside Joe Boxer pajamas inside Kmart stores, but the ability to buy the pajamas online was integrated into the app to encourage the least amount of movement necessary.
The Inactivity Tracker, much like the FitBit, utilizes wearable technology that connects to a mobile app, designed to work with iOS and Android systems. Since the device is the opposite of normal activity trackers and is designed to reward users for laziness, the software had to be redeveloped to track non-activity.
Every aspect of this campaign was executed by the lead agency, FCB Chicago. The software for the wristband and the app were both developed in-house. They leveraged existing wristband technologies with an innovative way to engage customers in a way that was in line with Joe Boxer's brand personality.
After the launch of the Joe Boxer Inactivity Tracker, off season sales increased by 64% and the tracker sold out within days of being on the shelf. Brand awareness increased, with engagement on social increasing by 300%. Additionally, the campaign won a mobile Grand Prix at Cannes this year.