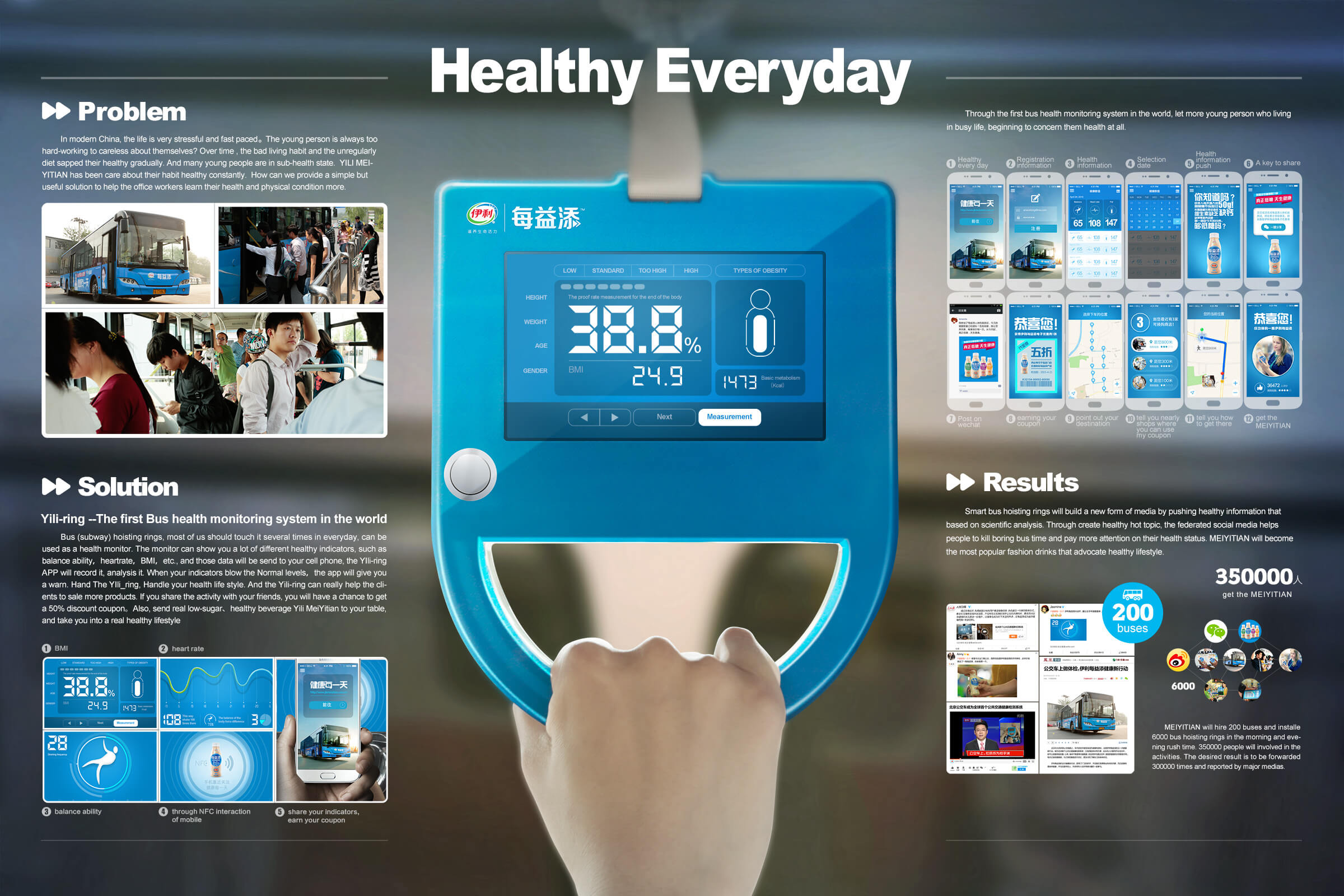 Client – Yili Meiyitian
Markets – China
Timing – May 1 2015 – May 31 2015
Agencies/Vendors – Cheil Pengtai
Tech Word Cloud – outdoor experience, Internet of Things, engagement, lead generation, health monitoring technology
Yili's yogurt drink brand Meiyitian tapped into the Internet of Things to reach out to young, white collar Chinese, creating a Smart Bus to provide free health checks during their commute to work.
Meiyitian was looking for a way to break free from traditional FMCG advertising. The brand – whose slogan is "Keeping Health Fun" – wanted to reach out to their target audience of young, white-collar workers, who often times find it hard to take care of their health due to a busy and stressful work life. They wanted to offer something innovative to attract their attention that was integrated into their daily lives.
Meiyitian's idea was to offer free health checks to Beijing's working young adults during their commute by creating the world's first Smart Bus Health System. The campaign was centered on the bus hand straps, which were designed to monitor the passengers' health indices, such as heart rate, body fat, and several others. The data could be sent to the users' smartphones, and then shared with friends to encourage each other's healthy habits. Meiyitian's campaign was designed to make a boring commute fun and meaningful, while reminding young people of the importance of paying attention to their health.
The major technologies involved in the Healthy Everyday campaign – heart rate detection, body fate detection and balance ability detection – are not particularly complicated by themselves. The challenging aspect was integrating them into the hand straps of the bus, creating a brand new media platform. Meiyitian also used Near Field Communication technology to connect the data from the hand straps to the commuters' smartphones to enable social sharing.
Meiyitian's agency, Cheil PengTai, led the creative concept and execution of the campaign, with the cooperation of several small electronics vendors to provide the health detection technologies. Meiyitian wanted to tap into the IoT (Internet of Things), blending creative with tech to offer an actual solution to consumers in their everyday lives. When compared to traditional advertising, they feel that this type of campaign is less expensive, and generates greater influence and positive brand sentiment.
The Healthy Everyday campaign saw 350,000 commuters take advantage of the Smart Buses' health detection technology, with over 3 million shares. Additionally, in a NELSON report, Meiyitian's brand rating became significantly higher than competing products in terms of innovation and social responsibility.